EAT: I think I have always been incredibly passionate about food and a self-proclaimed food critic (much to the annoyance of the cooking members of my family). At a certain point in my life I realized the only way to make this a sustainable passion was to start understanding, consuming, and loving wholesome, clean and nutritious food as an integrated part of life. During my college days I began to really embrace and love fitness and started enjoying a healthy way of living and eating. As universal awareness about nutrition started increasing, the idea of better food became a key passion for me which grew over time and I haven't looked back since.
PRAY: The Theobroma Cacao tree literally translates to "Food of the Gods". People often consume dessert like they consume religion – emotionally. Chocolate, in particular takes the top spot of emotional consumption and I love what it stands for – simple, timeless, indulgent and transcending age, gender, culture, geography and preferences. The idea of a single food that stands for so much emotionally, transcending ancient cavillations to modern day, is deeply fascinating. This fascination for dessert and chocolate is what led me to introduce Waffles to the Indian market through my 1 st company "The Belgian Waffle Co" which has grown to become incredibly successful in it's own right, has over 360 outlets across the country and is synonymous with the waffle category in India. But lets not digress..
LOVE: A little further down the years, in my late 20's I discovered a third love – Bali. I will never forget my first visit to the island and the instant feeling that "this was home". My love story with the island of Bali – the food, the people, the hospitality, the vibrance, the energy – continued over the years and is an on going adventure.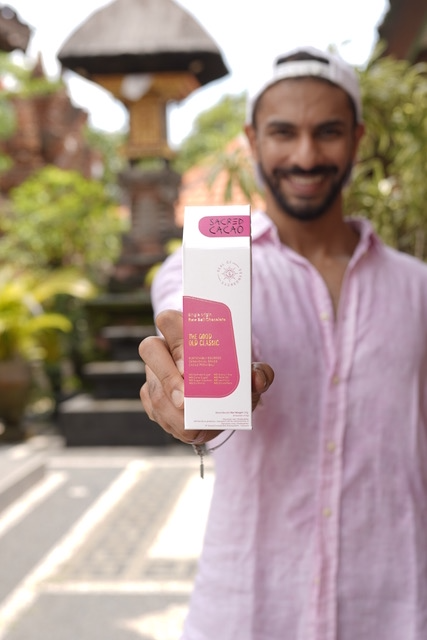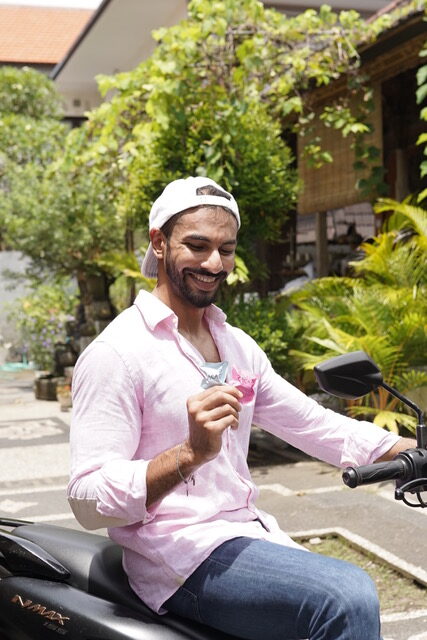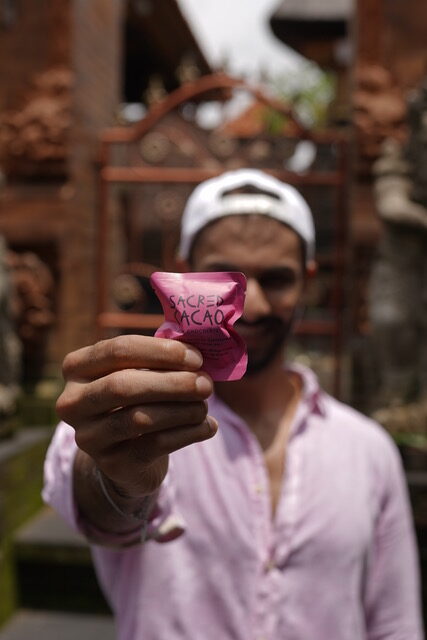 Today, I am proud to have discovered the convergence of my 3 passions with the birth of "Sacred Cacao". The sweet spot between the three has inspired a rich and revolutionary chocolate experience which not only tastes great, but is also genuinely great for you. Cacao's rich history dates back to ancient civilizations who used it for sacred medicinal rituals and unlocking euphoric states, giving it an almost divine status. That exalted essence was lost along the way with modern day chocolate being presented to us in a highly processed and refined form, which is why Sacred Cacao is going back to the roots. We bring you high quality, fair trade, locally sourced and pure Bali Cacao, without compromising on the taste or naturally occurring restorative goodness that is intrinsic to Cacao. I truly believe this is one of the most undervalued superfoods and with Sacred Cacao, we promise to unlock Cacao's precious potential in the most enjoyable form!
I hope my journey and the inspiring process of getting here helps enrich the lives of everyone who is part of the Sacred Cacao experience. Our mission is simply to revolutionize chocolate!